New reality, same Mission
To complement the discussion booklet produced by the moderators (Ready for the new 'normal'), this booklet is offered by members of the URC's Church Related Community Work, Mission and Discipleship teams, along with Church Action on Poverty, to enable individuals and local churches to explore, in more detail, questions of community presence and engagement and social justice in the new reality which we all face.
We believe that Christians and churches are called to demonstrate God's love to our neighbours, and to collaborate towards building flourishing communities, so that people may live 'life in all abundance' (John 10:10). This is particularly important in this moment of crisis, reflection and rebuilding.
There are, of course, many wonderful examples of this kind of mission and ministry happening through local churches and community groups already, some of which are included here to offer inspiration. You are probably already actively involved with a local community initiative, voluntary group or network. If you have a story, example or information to share, please let us know.
Downloads:
'Church at the Edge' sessions are hosted by Church Action on Poverty and the United Reformed Church's 'New Reality, Same Mission' team:
The next session will be led by Eunice Attwood, Church at the Margins Officer for the Methodist church on Thursday 8 July at 2pm.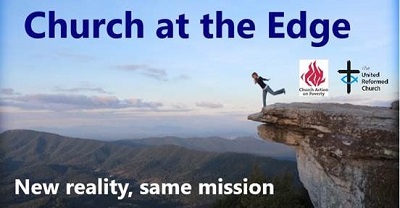 Eunice brings over twenty years' experience of ordained diaconal ministry from a variety of contexts, including city- and town-centred ministry amongst marginalised and vulnerable communities, where she helped start and grow many fresh expressions of church. Serving as the Vice-President of the British Conference in 2010-2011, she has significant experience of working with diverse groups of people across the Methodist Connexion.

Over the last eight years, Eunice has been the Tutor in Pastoral Theology at the Queen's Foundation for Ecumenical Theological Education, Birmingham. She is also one of the launch team leaders for New Inclusive Church Birmingham, a church plant started out of a deep commitment to living out the love of Jesus in practical, unexpected, and transforming ways.

Follow a link to Eunice Attwood's Zoom session here.

There is a break in August before the following event on 16 September at 2pm via Zoom

Shermara Fletcher, Principal Officer for Pentecostal, Charismatic and Multi-cultural Relations at Churches Together in England facilitated the June event.

For those of you who missed Shermara Fletcher's inspiring talk, would like to share it with others, or would simply like to watch again – it can now be viewed as a film on

here.

With roots in the Church of God of Prophecy, Shermara is a dynamic millennial Pentecostal leader with significant experience in community organising, ecumenical engagement, leadership development and public speaking. She is also committed to engaging young people and young Pentecostals and Charismatics by creating opportunities for them to exercise leadership and to enter into service in the public square. In recognition of her ground-breaking work, Shermara was the recipient of the 2020 Exceptional Young Woman award from The Wise Women Awards.

Please sign up to join in here.


More information is available on Facebook here.
In association with Church Action on Poverty.
View the videos below
Martin Johnstone

Anthony Reddie

Matt Sowerby

David Lucus

Carmel Murphy Elliot