URC Youth is the umbrella title for all those young people and adults who are connected with the URC and fall into the 11 to 25 age bracket.
'Our mission is to discover God, help each other grow in the Christian faith and, though our lives, reflect God's love to all'
URC Youth Assembly 2022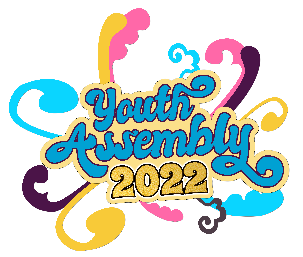 Jubilee, Youth Assembly 2022, is being held from 28 to 30 January 2022 at Whitemoor Lakes in Alrewas, Staffordshire, a fantastic venue for which we have sole use. Youth Assembly is a weekend of fun, friendship and fellowship including:
Youth Decides - discussions
Workshops and Keynotes
Worship
Silent Disco
Age: Year 10 (England and Wales) or S3 (Scotland) to 26 years (inclusive)
The age limit is extended for 2022 only due to the cancellation of YA 2021.
A creche will be available for children between 0 and 5 years old.
Cost - Early Bird price on or before 11 November 2021 is £115, standard price from 12 November 2021 onwards is £145.
Bookings will soon be online and will close on 1 January 2022 so get your name down now to benefit from the Early Bird price.
Contact the Children's and Youth Work office for more details or to request a paper copy of the booking form.
Last year, Youth Assembly couldn't take place. Instead URC Youth dis-ASSEMBLED weekend was arranged. Read the URC Youth Assembly Round-up (PDF | 3.3mb) and watch the Sunday night worship from the event on our YouTube channel.
Watch this video to get a taste of what happens at the Youth Assembly:
Trialogue
Each month through the year there will be a range of social media posts, Trialogue broadcasts and Zoom event, as well as suggestions of practical ways that you can make a difference from the comfort of your own home. Keep your eye out on the URC Youth social media channels. Each month there will be a different theme aimed at the 14 to 25 age range.
February - Activism and Advocacy
March - Israel and Palestine: conflict in the Holy Land
April - Vocation: unearth your inner superhero
May - Hostile Environment
June - Pride month
July - World Church
August - Community
September - Environment
October - Anti-Racism
November - Mental Health
December - Faith, Hope, Joy
URC Youth Executive
The URC Youth Executive for 2021 are:
Youth Assembly Moderator: Reuben Watt. Email: urcyamoderator@urc.org.uk
Youth Assembly Moderator Elect: Jo Harris. Email: urcyamodelect@urc.org.uk
Mission Council & General Assembly Representative: Victoria Turner
Green Apostle: Helen Glasse
Secretary: Ella Lemon
Northern Synod: Dylan Hall
North Western Synod: In vacancy *
Mersey Synod: Emily Dudley
Yorkshire Synod: Kai Weynberg
East Midlands Synod: Ella Lemon
West Midlands Synod: Esme Ramsden
Eastern Synod: Helen Glasse
South Western Synod: Mollie Wells
Wessex Synod: Maya Withall
Thames North Synod: Philippa Osei
Southern Synod: In vacancy *
Synod of Wales: In vacancy *
Synod of Scotland: Morven Sanderson and Beth McDonald
Pilots Representative: Megan Westgarth
Equalities & Diversity Representative: In vacancy *
Supported by:
YA Clerk: Nick Booth
Chaplain: Revd Phil Wall
CYDO+ Trainer: Jon Steel
CYDO+ Support: Tom Hackett
Head of Children's & Youth Work: Sam Richards
*Applicants for these posts are welcomed from anyone aged 16-25 connected to a church in the synod or living, studying or working in the synod, or with other links. Please contact children.youth@urc.org.uk
Due to the impact of Covid-19 on the ability of the Youth Executive to meet together and the necessary decision to change the nature of Youth Assembly for 2021 - with the implications on the viability of elections - it was decided that Reuben and Jo should continue for a further year as Youth Assembly Moderator and Moderator Elect.
Photo: Reuben Watt's induction as Youth Assembly Moderator - with the Revd Nigel Uden, General Assembly Moderator