Last Updated on 20 May 2022 by Catherine Kelliher
Ministers have ensured that their support for Ukraine was conveyed loudly and clearly last week.
At the United Reformed Church (URC) 2022 Minister's Gathering, hundreds of ministers and Church Related Community Workers (CRCWs) signed the back of a poster version of the cover of Reform's April edition.
The moving cover reminds us to keep Ukraine in our prayers, and is available as a poster for churches, for free here.
The Revd Najla Kassab, a Lebanese pastor and President of the World Communion of Reformed Churches who was one of the guest speakers at the event – held from 9-12 May at Yarnfield Park Training and Conference Centre in Stone, near Stafford – left the gathering earlier than expected as she was presented with the opportunity to travel to Ukraine to meet with the Bishop of the Reformed Church in Trans-Carpathia, Sándor Zán Fábián, in Kyiv.
Najla took the signed poster with her to show the Bishop the URC's continued love, support and prayers for all affected by the murderous and unnecessary conflict.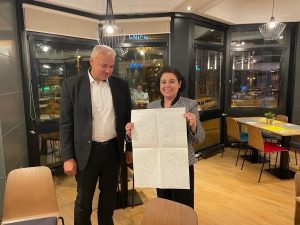 Steve Tomkins, Editor of Reform, said: "It's really good to see the cover of Reform turned into a poster and used by churches across the denomination. We distributed hundreds."

The gathering was a space for ministers and CRCWs to be inspired and encouraged through a full programme of activities which blended keynote addresses, Bible studies, workshops, worship, including space for conversation and reflection.

Posters from Reform and other prayers and resources about the war are available here.

More about the Ministers' Gathering can be found here.

If you'd like to keep up-to-date with news, comment, inspiration and debate find a range of subscription offers for Reform here.

Tags: