And don't let anyone put you down because you're young. Teach believers with your life: by word, by demeanour, by love, by faith, by integrity.
1 Timothy 4:12 (The Message)
If you are between 11 and 18, you have reached that stage of life where you may be beginning to outgrow children's provision in church and be developing the beliefs, opinions and values which will carry you through to adulthood. You may be ready to take on increasing responsibility or develop your leadership skills. You may be seeking fun ways to interact with your peers on new levels and through different activities and groupings.
If you are in this exciting age range, or if you work with or support young people within the church, then these pages are for you. Or if you are a parent or carer eager to see what the URC can offer for your young people, read on.
This page is a work in progress which we are keen to develop with links to more resources and useful/appropriate websites, information about a wider range of children's activities run by our churches, and more. Email us or comment on our facebook page.
United Reformed Church Youth
Young people from 11 to 25 who are associated in any way with the United Reformed Church are automatically part of URC Youth! This page is intended to tell you more about the role of young people in the URC, to link you to churches and synods where you can get involved, to encourage you to participate in Youth Assembly and to explain a bit about the way our Youth Executive works to represent young people throughout the denomination.
"Our mission is to discover God, help each other grow in the Christian faith and, through our lives, reflect God's love to all."
---
Youth Assembly and the Youth Exec
Each year, the URC Youth Assembly brings together young people from across Scotland, England and Wales to share in fun and fellowship, and to explore issues and topics relevant to Church, society and life through workshops, seminars, discussions and creative activity. Next year's Youth Assembly will be from 18 to 20 January 2019 in our usual venue of Whitemoor Lakes, Alrewas, Staffs and is for any young people connected with the URC from Year 10/s3 to 25 years inclusive. Sign up here or contact us for more information.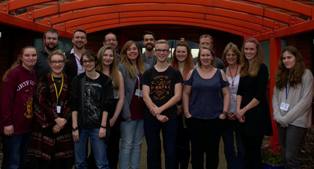 A group of young people known as Youth Executive, consisting of representatives from each regional synod along with others elected at Youth Assembly, carries out the work of the Assembly and advocates the needs, interests and views of young people in the URC.
Be sure to check out the URC Youth Website (currently offline awaiting a re-launch towards the end of the year) and the URC Youth Facebook group,
The URC Youth Assembly Moderators are elected by your representatives at Youth Assembly and this year's Moderator is Hannah Jones, with Natalie Gibbs and Katie Henderson as Moderators-Elect. They are the first all-female moderator team for Youth Assembly, as you can read here.
Downloadable documents for Youth Assembly 2019 - One Body: We're all in this together
General information/consent form for participants under 18
Request to administer medication (under 18)
General information/consent form for participants aged 18 to 25
General information/consent form for 26 and over
Coach travel arrangements form
Childcare at Youth Assembly 2019
Pen portrait form and guidance
Youth Assembly Programme : Contents and intro
Youth Assembly Programme : Youth Exec
Youth Assembly Programme : Keynotes and Worship
Youth Assembly Programme : Prayer room, Pastoral care and Business
Youth Assembly Programme : Small Groups and Synods
Youth Assembly Programme : Issue Focussed Workshops
Youth Assembly Programme : Timetable
Youth Assembly Programme : Late Night Programme
Youth Assembly Programme : Who's who
Youth Assembly Programme : Additional Information
Child Friendly Church Award Scheme
---

If you are a young person or the family of a young person aged 11-18 and you are looking for a church to get involved with, it can be very difficult to be sure which ones will be more suitable for your needs. This is why we encourage churches to apply for our Child Friendly Church Award Scheme.
A church which has this award has been able to demonstrate that that they are doing everything in their power to cater for the needs of parents, carers and young ones in their context. While this is no guarantee that the church will be just perfect for teenagers, it is a good indicator that they are thinking in a more intergenerational way. Find your nearest Child Friendly Church here.
Pilots
---

Our ecumenical, non-uniformed organisation which is open to all children and young people from 5 to 18, has groups which cater for the 11-18 age range. Here you can meet with others and get involved in crafts, team games, activities and learning more about your faith and your world. Pilots aims to meet the needs of each community in which it function.
Pilots also encourages children and young people to develop their leadership skills and hopefully, in time, take more and more of a role in planning and delivering the programme for their company.
Some good resources...
This is our section where we ideas and resources for 11-18 year olds, their families and youth workers, and any church volunteers who work with this age group. Not all of the ideas are new ones, but good ideas seldom age! Feel free to contact us with any more resources or recommendations.
Suggestions for Crafts, Activities and resources
Talk Calling is another excellent resource for use with youth groups. CPAS have produced a set of discussion starter cards to enable young people (and not so young) to begin to explore the possibilities that God might be calling them to in their lives and the blockages which might be holding them back.
Here is a PDF of some recommended books and websites organised into several categories to help you find exactly what you need.