Coronavirus resources for children and youth workers
CORONAVIRUS: At this unprecedented time when Christian Children's and Youth Work (like all other) is reduced from gathered to dispersed outreach and we are no longer able to meet directly with families and individuals for pastoral or faith-based purposes, we have provided a couple of resources you may find useful. Read more
Supplements to our bimonthly newsletters
A special supplement to our bimonthly newsletter with details of our Advent resources
A special supplement to our bimonthly newsletter with links to a variety of resources which may be suitable for your setting
A special supplement to our bimonthly newsletter with links to continuing professional development/skills development
A special supplement to our bimonthy newsletter with links to a variety of resources to explain to children and young people about the virus and to support them through anxiety, grief and loss
A special supplement to our bimonthly newsletter with links to resources suitable for 11 to 18 year olds
A Guide to using Zoom for our conferences/training/webinars (PDF)
Infant Feeding Policy
Local churches are encouraged by Mission Council to adopt the new URC Infant Feeding Policy which was approved in November 2020.
The policy states:
Anytown United Reformed Church ('the church') wants this to be a safe place for infants to be fed by their carers/parents.
We will give all parents and carers active and practical support for their needs in feeding their infant here whether by breast or bottle.
It goes on to give guidance to enable local churches to fulfil this in practice in a variety of ways. The document can be adapted to the local context, and should be taken to the Church Meeting for adoption.
The policy should then be displayed in the church along with the accompanying poster. The logo may be used on websites and newsletters and so on to indicate that the church has adopted the policy.
We hope that the policy enables churches to be truly welcoming to infants and their parents and carers.
Download the editable policy here
Download the A4 poster here
Download the A3 poster here
Download the logos on blue background, on white background
Resources for recruitment of volunteer leaders and helpers
Children's volunteer leader role description, application form and agreement
Children's volunteer helper role description, application form and agreement
Youth volunteer leader role description, application form and agreement
Youth volunteer helper role description, application form and agreement
Advent Resource for 11 to 14 year olds
A weekly resource for eleven to fourteen year olds to use either alone or in a small group to reflect on the four words of Advent. This resource has been compiled by the CYDO+ team to accompany the Bible Project's Advent Words series on YouTube.
Leaders' Pack - all four sessions
Families on Faith Adventures @ Home
This resource now has its own designated webpage where you can find all our editions of our weekly intergenerational resource: https://urc.org.uk/families-on-faith-adventures
Other resources
The URC and Pilots and other associated organisations also publish resources for use with children, young people and in intergenerational settings.
Prayers for Foster Care Fortnight 11 to 24 May 2020
Prayer resource for Foster Care Fortnight

Common Ground: Resource Pack 2020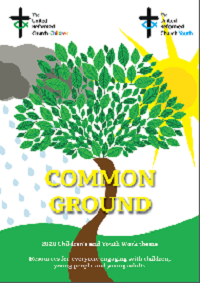 Additional drama for Common Ground
The Gift' and 'Where are the children?': Extra Resources
Download your spare calendars and prayer dice here:
Resources for Lent and Easter 2020
Wilderness Reflections - Lent Journal
Resources for work with Under 5s and their families 2020
During 2020 the CYW team and CYDOs+ will be sharing some resources, links and ideas to resource churches and individuals in their work with Under 5s and their families. New factsheets or resource sheets will be added to this library throughout the year.
Adverse Childhood Experences (ACES) and 1001 Critical Days
ROOTS for Churches - Worshipping with 0s to 5s
Setting up and running an effective creche
0-5s in church (including infant feeding)
Baby loss
Bibles and other resources for Under Fives
Dads
Holy Habits 2018

During 2018, we gave suggestions for exploring the Holy Habits with children and young people:


Additional resource for Holy Habits: an excellent online guide from the Bible Society to exploring different Bible translations. Useful for leaders, young people and young adults.
Families on Faith Adventures-Week 30-God Is.pdf