The United Reformed Church made itself 'More than Welcome' at sun-kissed Greenbelt during the August Bank Holiday Weekend; attracting many a compliment for its thoughtful, and thought-provoking, presence – and wide-ranging activities.

The URC's 'More than Welcome' theme for 2017 proved to be fertile ground for conversation and action during the festival of arts, faith and justice. From a knitted food treasure hunt through to intentional conversations, cake and debate, poetry, story-telling, a panel discussion and much more; the URC – with a Greenbelt team of 51 –based its programme on the question posed in Luke 14:15-24: 'Who's missing from the banquet?' This led to further questions: 'Who's missing from our conversations, our communities, our churches?' The challenge was then thrown down: 'Jesus invites everyone. Do you? What will you do to fully include others – and allow them to replenish and change you?'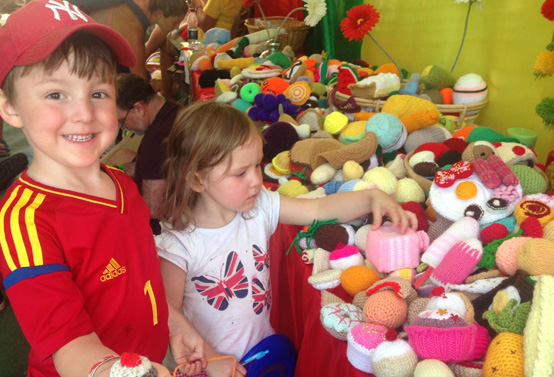 Hundreds of adults and children responded to the challenge in various ways during the weekend. One of the most popular of activities was the knitted food treasure hunt; all made possible by the hard work of knitting and crochet fans in 80 churches from Fraserburgh to Southampton – all of whom contributed a staggering 2,800 items for the event.Linda Mead, Commitment for Life Programme Co-ordinator for the URC and member of the Greenbelt planning group, commented: 'We provided some patterns when we first launched the idea of the treasure hunt but the whole thing just snowballed! A church in Annan gave us 1000 knitted squares which are going to be made up into blankets for the HARP homeless charity in Southend-on-Sea; my niece in Melbourne sent us some pom-poms she'd made, and URC churches up and down the country did a tremendous job. It also developed into an ecumenical project in many places with Anglican churches finding out about it on the Greenbelt Facebook page and asking to get involved.'.
The treasure hunt saw 10 large picnic hampers hidden on site, each filled with an abundance of knitted food. Children keen to take part in the hunt came to the URC tent where they were given a smaller picnic basket and a form to complete during the search. Each of the hampers dotted around Greenbelt revealed the name of a Fruit of the Spirit under the lid and treasure-hunters had to list it on their respective form.

The youngsters also had to choose one piece of knitted food from the hampers and collect them all in their own baskets. After naming all the Fruits of the Spirit, and collecting 10 items of knitted food, they returned to the tent in the festivals' 'Takeaway' area to add their food to the banqueting table and claim their prize of fruit-shaped medals. Reports from the 'field' suggest much debate regarding the children's decisions about 'what to take and what to leave behind' at each hamper!


The knitted items, and cards describing them as gifts from the URC, were given away to festival-goers at the end of Greenbelt. Some are being used for an event at New Malden to celebrate the URC as a multicultural church with an intercultural focus.

Steve Summers, CRCW Development Worker and URC at Greenbelt Project Coordinator, said: 'We've had such positive comments such as "If there had been a best tent prize then you would have won it" and "What the URC did last year was great but this year the More than Welcome programme has been amazing!" However, for me, the most encouraging feedback has been from numerous people wo have said they've been inspired; inspired to start a local knitting group, inspired to organise a community treasure hunt … and inspired to go back to their own church to have their own intentional conversations about being a more inclusive community.

'The figures speak for themselves; 540 people did the treasure hunt and we estimate that 640 under 18s and 850 adults visited our tent over the weekend. Some 220 people participated in the intentional conversations and approximately 590 people attended our debates.'

Greenbelt festival director, Paul Northup, said: 'It was great to work in association with URC again at Greenbelt this year. Their exploration of the theme, "More than welcome" resonated powerfully with what was the most inclusive and welcoming festival we can ever remember. It was a joy to see all that URC brought to the festival – from conversations to installations and yarn-bombing to treasure hunts.'


The URC tent was a hive of (relaxed) industry with visitors writing their own personal stories of welcome in a book, colouring, listening to stories at The Big Storytelling Chair, poetry by URC poet-minister Revd Lucy Berry, making pom-poms, creating a knitted blanket and – for one boy in particular – learning a new skill. Noah had travelled to Greenbelt with his family from their home in Doncaster; he had never knitted before but thought he'd give it a go. Many hours later, he was still giving it a go as a successful knitter; returning the following day to continue with his craft. His enthusiasm was infectious.

The giant U, R and C letters – standing on the corner site next to the tent – were decorated with art and pom-poms as the long, hot weekend continued. For those looking for conversation, the URC Big Banqueting Table art installation was the place to go.

Built by artist Nic Walters, who created Scrap Church for last year's festival, the large table had two lines of scaffolding poles running on either side of it. Further scaffolding poles created a 'roof' over which was draped with red and white safety netting. Nic had looked at images of the type of 'shanty housing' created in many refugee camps and wanted to suggest a similar structure in which to host the URC's series of 'intentional conversations' – and provide a place where people would be happy to sit and rest and talk at any time. As an explanatory leaflet said: 'Please touch the art! In fact, sit on it and eat your picnic. You're more than welcome.'

The 'intentional conversations' at the Big Banqueting Table comprised seven stand alone, but connected, opportunities for participants to share, challenge and inspire in discussions centred on Jesus being a guest at a banquet where he told a story about another banquet. But how relevant is the parable today? Who gets invited, who gets left out; and, who ignores the invitation altogether?

The conversations – organised by UnReCognised, a group connected through Greenbelt and the URC – focused on:
Who is missing from the banquet? A conversation specifically for those who want to engage with people who don't go to church. Helping to facilitate the session were United Reformed Church Co-ordinator for Fresh Expressions, Linda Rayner, and retired URC minister, Andrew Francis. Andrew said: 'There was really good participation and the idea of having a transparent installation was great because people felt free to come and join in at their own level.'

A banquet for those wishing to make their banquets better (Fiona Thomas and Tim Slack). How can churches build on their own experience, celebrate what is good and design ways to be even more welcoming? This conversation used Appreciative Inquiry to develop Gospel welcome. It also saw the launch of a set of Appreciative Inquiry cards to help people develop conversations around these themes in their churches. Fiona commented: 'There are 36 cards in the pack; 20 of which are question cards. We were testing the prototype for these and it was very helpful to get people's feedback because we now have further ideas to make the cards even better as we develop them in future. They could be used by individual churches to spark conversations about their own level of welcoming or they could be used by a synod. I was really pleased with the way it went.'

A banquet for those who might forget they're invited (Mhari McLintock and Lucy Berry). This conversation asked: 'What would the banquet look like if it were hosted by, and aimed at, people living with dementia? And how does it feel to be one of the guests?'

A banquet for those already welcoming the stranger (Catherine Lewis-Smith and Phil Wall). A conversation specifically for those who already make asylum seekers and refugees more than welcome in their churches.

A banquet where the host is "lame, crippled and blind" (Jane Henderson and Mordecai Weynberg). This conversation explored the reality of disability, and how to engage creatively with making a difference.

A banquet for those celebrating women in church leadership (Janet Sutton-Webb, Kirsty Thorpe, Tim Lowe) Kirsty Thorpe said: 'Constance Coltman's story went down very well at Greenbelt. At the Big Banqueting Table we wondered about her ordination tea 100 years ago. Actor Celia Morris-Sanchez (in costume) reprised her film role as Constance with powerful improvised speeches. We wondered how Constance had really felt on that day, under the layers of clothes and her confident exterior.
'Constance's story continued in the Red Tent venue later the same day when we broadened and deepened the "herstory" to include pioneering women throughout the Church and over time, helped by Anglican priest Miranda Threlfall-Holmes. We shared each other's pain and built one another up. Celia told us that wearing a corset makes you breathe deeply and speak out clearly but I'm not recommending it! As someone who's been researching this story for more than 20 years I discovered new energy and fresh perspectives through all of this. People are not just ready to enter into the story – they bring a rich variety of ideas and questions as they do so and it makes for exciting discussions.'
A banquet reimagined (Elizabeth Gray-King and Craig Muir). Visual theologian and artist-in-residence at the 'intentional conversations', Elizabeth was part of the final session for those who are inspired by creativity, drawing together the learning from the weekend's conversations.
Elizabeth Gray-King's busy Greenbelt diary also included chairing a panel discussion based on the URC's More than Welcome theme. Entitled All Welcome (terms and conditions apply), the panellists were Rachel Mann, Savi Hensman, Niall Cooper and Jane Henderson.


The United Reformed Church Youth presented a Cake and Debate in the style of popular television comedy panel show, Would I lie to you? Contestants had to bluff about Bible 'facts' and the audience had to determine which ones were true – or a lie. The session, fuelled by a temptingly wide range of traybakes, proved extremely popular with the cake-loving crowd.

The URC at Greenbelt team was also involved in several successful 'yarn-bombing raids' across the site, 'dressing' a tree with knitted squares and pom-poms, creating a knitted tea party for two, and preparing a woolly bicycle! Younger members of the team, dressed as caped 'More than Welcome' superheroes, went out on regular 'missions' to provide random acts of kindness to festival-goers.
Further details of resources are available on the URC at Greenbelt page.