The Revd Lythan Nevard tells of developing community – and a church – in Cranbrook, a new town on the edge of Exeter.
I work as part of an ecumenical project funded by the URC, Methodist Church and Church of England and my job title is Minister for Cranbrook; I love that I am minister for a place not of a church! Cranbrook, which is still being built, will eventually have a population in the region of 20,000.
There isn't a church building though we do have some land designated for that in future; in the short-term it is going to be a community garden with a spiritual emphasis. We have used it for worship a few times this year although it still belongs to the developers so we can't create a garden just yet.
But there is a church. We are called Cornerstone and we meet in different places, at different times of day, in different ways. We are exploring what is at the heart of being people of faith together, how to worship and how to grow disciples. It isn't easy and there have been a few setbacks along the way but it is also exciting and challenging, building the community of the town and the community of the church.
I've been an ordained URC Minister of Word and Sacraments for almost 25 years and am married to Phil, also a URC minister; we met as young volunteers on the Ginger Group project over 30 years ago. It was Phil who suggested I apply to be minister for Cranbrook. I wasn't at all sure I had the right gifts and skills and certainly had never thought about working in a fresh expressions' type of project but something (OK, the Holy Spirit!) made me apply. I'm so glad I did. I have now been in Cranbrook for a year and am known as RevNev by my neighbours.
The building work at Cranbrook will not be finished for about 10 years so part of my role is that of community engagement, representing the residents and helping people to connect with each other. It is a very young population; we have one of the largest numbers of nought to four-year-olds in the UK. That's why I think the "for" in my job title is very important. I am called to be here for the whole town, not just for the members of the church. It does mean that I am a very visible presence which has its pros and cons.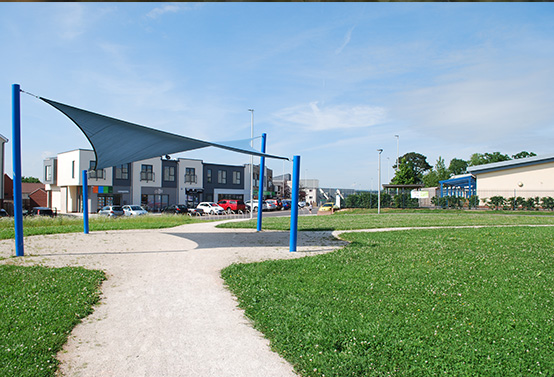 Another part of my work is helping to grow a church community called Cornerstone. There is no actual building for Cornerstone. We usually meet in one of the schools where I lead collective worship every week, but it could be in the country park or in the brand new pub.
The concept is that, as the town grows, the church will grow into a group of Christians who will meet together regularly to worship but also be salt and light in the town. Cornerstone emphasises the idea of being "blessed to be a blessing" (Genesis 12:2). The upshot of that is that it may look very similar to, or different from, church as we know it. We are very much a work in progress, trying to discern what God is calling us to do and to be.
I'm often asked how many people are part of Cornerstone and that is a difficult question to answer. We don't have a membership roll or address list as yet but we do have a Facebook group, which perhaps illustrates the young age profile of Cranbrook. I think there are far more people who see Cornerstone as their church than we would necessarily count. On Messy Church Sundays we can have 80 people there; at All Age Worship it could be 10 – or any number in between!
There are some challenges to working in a new town. On the one hand, there is constant change and, on the other, things don't progress quickly enough. Cranbrook is a very different place from that which the first minister came to almost five years ago. Then it was a pioneering community that had to create its own facilities and because the minister was the only paid community worker for a long time, the church was at the heart of creating community.
Now, you blink and more houses have been built. There are lots more people, more public transport, a town council and other groups; all of which means that the church is slightly less at the centre of community – although still a significant player. That means we must keep changing and evolving as a church. That is easier for something that is small and new, though less easy than you might think as everyone likes a routine!
There is a lack of public facilities; we won't get a town centre for at least another three years and much of what we do have is at capacity. This also puts pressure on public and statutory services, which is one of the downsides of creating a town from scratch rather than growing organically as they did in the past. Managing expectations and working with what we have is difficult but it does bond the community as we moan about what we lack! It is at this point that a church building would be useful as a community space but that would also take years and too much energy to put in place and we want our focus to be on mission and discipleship.
The church has also not grown as fast as some people thought it would and that has led to disillusionment and some of the leadership team taking a step back. Growing a new church in a new community can be a very slow process and it may not look much like church for a long time. One of the issues is that those who are Christians want something that looks like the church they have worshipped in before, whilst acknowledging that it would not necessarily be the right thing to attract the unchurched. Finding the right balance does take time and may need Christians to be sacrificial or creative in how they are fed. For example, we have a Thursday night prayer group that is sometimes feels more like worship than what is happening on a Sunday, although we also see the forest walks and pancake parties as worship as well!
Another personal challenge has been "unlearning" a lot about being a minister. It has been fascinating to think about what is necessary to be a church and to grow disciples. It is exhilarating and exciting but also scary and sometimes lonely so I have appreciated the support of my Moderator and the other Pioneers in the URC. We have started to meet regularly to talk about our situations, learn from each other and will be trying to tease out some principles that might help others who want to do church in a new way.
The fact is that it is such a joy and privilege to be Minister for Cranbrook where every day is an adventure with God.
The Revd Lythan Nevard: lythan.nevard@gmail.com