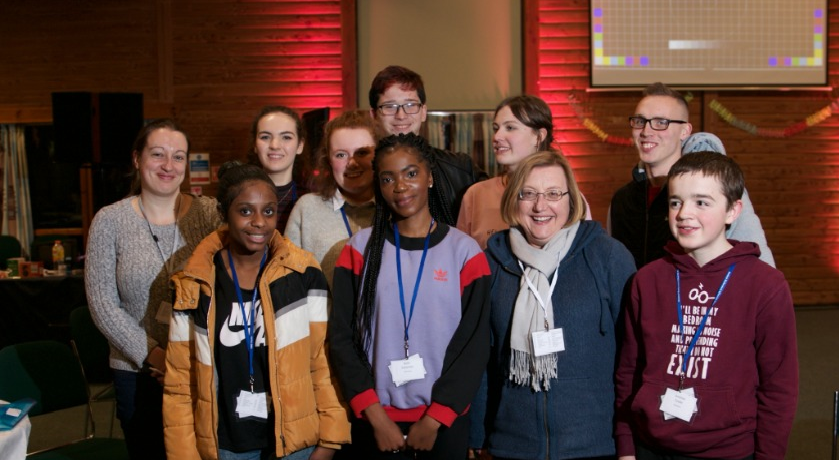 United Reformed Church (URC) Youth Assembly 2019 themed 'One Body: We're all in this together' took place from 18 to 20 January at Whitemoor Lakes, Staffordshire.
Dr Sam Richards, Head of Children's and Youth Work, reflects on the event.
This year's Youth Assembly explored how, as one body in Christ, we all have a part to play in the environment, social justice, and creating an inclusive Church.
Ninety-eight young people from 13 synods attend the Assembly and explored these themes through a wide variety of workshops including craft, Bible study, drama, prayer, and outdoor activities
Guest speakers – from A Rocha, an environmental charity; the Joint Public Issues Team, which champions social justice issue; and Beacon: LGBT+ in the URC, which supports and resources LGBT across the denomination – highlighted the challenges and how everyone can be part of the solution.
Resolutions debated over the weekend included requests to encourage local churches to give children and young people a meaningful voice, to install WiFi, and to create a task group to research ways to tackle young people's loneliness.
Hannah Jones, the outgoing Youth Moderator, gave a rousing speech as her term in office came to an end. Katie Henderson and Natalie Gibbs were inducted as the new URC Youth Moderators on a job-share basis. The Revd Jenny Mills, of Newport Pagnell, will serve as Katie and Natalie's chaplain.
Katie and Natalie said they were 'looking forward to pursuing the resolutions agreed and working to extend and widen the reach of URC Youth, including making it more inclusive.'
Reuben Watt was voted URC Youth Moderator-elect and AJ Mills as General Assembly and Mission Council Rep.
In response to a 2018 resolution to consider lowering the Youth Assembly's minimum age from 14 to 11, 11 young people aged 11-16 enjoyed a taster day alongside the main programme on Saturday.
As Head of the department, it is wonderful to see children and young people, from across the denomination, come together to explore issues important to them, and use the opportunity to have their voices heard.
If you want to get involved, there are more opportunities to do so this year.
We are now taking bookings for 'The Big Speak Out 2019' taking place in Derbyshire from 5 to 7 July. The weekend events is aimed at young people aged 11-18, who want to take part in a weekend of creative engagement, fun and friendship.
Early bird bookings must be made before 5pm on 26 April and cost £69. Bookings made after this time will cost £85. Book here.
Also, resources on children's and youth work's 2019 theme of One Body will be posted to every local URC in February.
Email the children's and youth work team if you would like more copies.