The Revd Helen Wakefield-Carr writes about her and her children's experience of lockdown and how Scouting as helped inspire a wealth of activities to keep them all busy.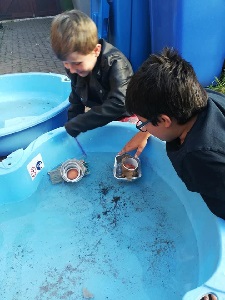 The 2nd Desborough Scout group have always had close connections with Desborough United Reformed Church as a sponsored group. Lockdown began in March and the Scouting movement, along with many other organisations, were quick to stop any face to face scouting activities in line with government guidance.
All sections of the group were finding ways to connect and engage with the young people. As a parent of two children who attended Cubs, I wondered how the children would maintain the sense of feeling part of a group when they were experiencing isolation in the home. Our Cub leader took the initiative to keep to the usual time on a Tuesday evening to engage as many young people who wished in the Cubs activities and badge work.
On Tuesday evening at 7pm, we wait in anticipation for our weekly activity to be emailed over. These activities have varied hugely, but all have counted towards badge work. Some badges have been created by the Scouting movement as a result of lockdown (such as Camp at Home and Hike to the Moon) where as other badges are from their usual programme.
We have created eggs to join the 1st Egg Pack and who then have to go rafting; outfits made from recycling materials, Union Flags from clothing and items in the home, built tall giraffes from rubbish, and have tackled some science experiments on the kitchen floor. These are just a few of the things we have been challenged to do. The young people enjoy looking to the group Facebook page to see who else has taken the challenge and what they have created and done.
Scouting has been a valuable and inspiring element, for not just my children, but many across the country during this lockdown period. For this there are many parents, I'm sure who are as grateful as myself.
The Revd Helen Wakefield-Carr