'Walking on Sunshine'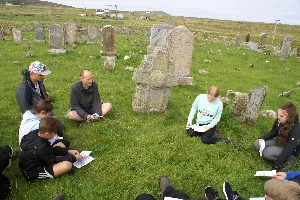 On the 6th of August eleven young people along with four leaders set off for the beautiful island of Tiree. The young people came together from Nairn URC, Greenock East URC, and Rutherglen URC and spent the next five days on a pilgrimage – a time of journeying, reflecting, worshipping and sharing together as they learnt about and encountered ancient signs of Christian faith and witness on the island as well as learning something of the pre-history of the island. The times spent in worship around the crosses at Kirkapol, Soroby (pictured) and at St Patrick's Temple were special moments during a trip which also included opportunities to care for and appreciate the environment – with a nature walk and beach clean (pictured) under the leadership of Stephanie Cope, the island's ranger. Other activities included evening reflections, surfing, swimming, arts and crafts, several visits to the Co-op and an evening around a camp fire which included that evening's time of reflection (pictured).
A great time was had by all the participants with friendships being made and strengthened and many insights were gained into the faith, courage and witness of those Christians who inhabited the island centuries ago. Thanks go to the Synod of Scotland along with a number of individuals for their financial support and thanks also go to all who helped and encouraged us in the planning and delivery of this wonderful and inspiring event.