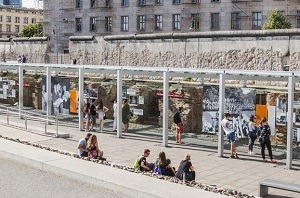 It is 30 years since the fall of the Berlin Wall, the wall which was built to separate East and West Berlin after WW2.
Hard to believe but 2019 marks 30 years since this world changing event. It was a time of great optimism and liberation with the promise of a post-Cold War peace dividend. In rather different times, it will be good to reference a more positive period for Europe and perhaps even rekindle that spirit of hope. This opportunity is for two under-26s to join in the four days of celebrations as part of a URC delegation
As part of the URC's commitment to a greener travel policy, we will travel out as a group from London St Pancras Station on Thursday morning 7 November, taking the Eurostar to Brussels and then the fast train to Mannheim. The bulk of the party will return on Monday 11 November. We are delighted that GA Moderator, Revd Nigel Uden will be joining us and has been invited to preach at the Saturday service of celebration.
Please note that you do not have to be a German speaker. German and English will be spoken with translations available. We are hoping to include regular partnership friends as well as first-time visitors to the Palatinate. There will be a contribution required (for the cost of travel only) of around £150 per person. If you are interested in taking part in this event, please contact Carole Sired: carole.sired@urc.org.uk
Here is the outline programme:
Thursday
Late afternoon arrival in Frankenthal and reception
Introductions and preliminary discussions
Evening meal followed by a topical film (in English and German)
Friday
Daytime discussion topics:
The historic events leading up to the fall of the wall
Germany - 30 years after the event
Metaphorical Walls
Bible Study
Evening: Wine tasting
Saturday
Preparation for Worship
2 p.m. Reception followed by Service of Celebration
(provisionally at Zwoelf-Apostel-Kirche, Frankenthal)
Sunday
Morning - Invitation to worship in local churches of the Palatinate
Afternoon & evening – Free time to explore
Monday
Return journey via rail
If finances are an issue for travel, do not forget to approach your synod or the URC CYW small grants fund.