Church Related Community Worker; Maria JY Lee works with the CRCW project in Chelmsford.
In her new reflection, Maria shares some worrying statistics, identifying the community she works in as one of the most deprived in the city. Maria says:
"Our neighbourhoods in North Avenue are literally trapped in a cycle of deep poverty. According to a Public Health England report in 2017, life expectancy is 6.7 years lower for men and 2.9 years lower for women in the most deprived areas (e.g. North Avenue). In terms of Child poverty, 28% of all children, in the UK, are living in poverty"
(Child Poverty Action Group 2013/2014 statistics).
With demands on the local food bank high and the subsequent end of the North Avenue Christian Centre as a distribution hub, the team were keen to help. Maria says:
"People's needs for basic foods and personal care items are high. I wanted to tackle the poverty-related social issues such as child poverty, hardship in lone parent households and mental health-related isolation. The team and I were keen to find effective ways of continuing to support the needs of our community."
One of the ways the team wanted to support the community was to create a little free pantry, an idea that has its roots in America. The aim is for people to leave items in a little pantry, which is accessible to all and provides items for those who need them most. It requires no voucher or payment but you can leave something if you wish: "LEP (Little Free Pantry) at North Avenue is for neighbours helping neighbours." It's as simple as that (but effective)!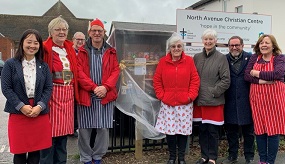 To read Maria's full story, see pictures and see how the pantry was received by the community on its launch day click here.