Last Updated on 27 June 2022 by Ann-Marie Nye
Here's your round-up of local news from around the United Reformed Church (URC) over the past seven days.
East Midlands Synod

Kind-hearted young people, who attend Melton Youth Club held at Melton Mowbray with Freeby United Reformed Church, have put together a leaflet to help Ukrainian children living in the town after fleeing the war in their country.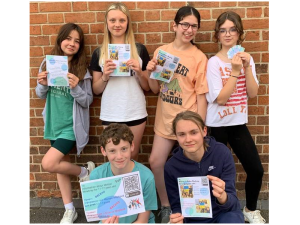 Melton Youth Club members. Image: Melton Times.
The youngsters have also created a business card with a QR code that links to the online version of the leaflet.
The club was assisted by a Care4Calais volunteer who has interacted with refugees who have stayed at a local hotel.
Read the full story here.

Eastern Synod
A dull unused piece of land between a main street and a town car park has been transformed into a bright community space, the result of an exciting partnership between Leiston United Church and Leiston Community Land Trust.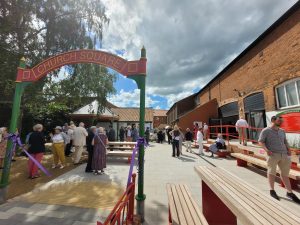 Most of the land came from the church and finance from the Trust – which also paid for the new doors and other improvements to the church. Leiston Community Land Trust understand the role that church can play in building community and supporting the vulnerable and it is wonderful to have inviting places to sit and talk outside.
Both partners are keen to emphasise that the physical work is just the start, that community development especially with a spiritual dimension is key, underlined at the official opening which began with prayer.
Northern Synod
Congratulations to Waddington Street URC in Durham which is celebrating 150 years.
The Revd Fiona Bennett, Moderator-elect 2022-2023 is gifting packs of Jubilee coffee that she visits, with an invitation for people to enjoy each other's company and to talk about what they are thankful for from our first 50 year. The Jubilee blend has been produced by Kingdom Coffee for The United Reformed Church to mark its 50th anniversary and its decades-long support for the fair trade movement and is available from the URC Bookshop £3.75 +p&p.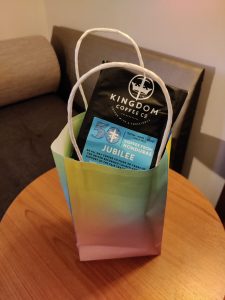 Yorkshire Synod
During an Otley Bridge Church Sunday morning service, the church's Group Scout Leader, Christine Paterson, presented scouting awards to three of its leaders – Sue Dockar, who has completed 10 years' service within the Beavers and Richard Paterson and Les Marsden who recently completed training and were awarded with their wood badges.
Two of Otley Bridge's Scot leaders.