'After talking to many residents and different organisations we realised the need to bring these people together, and be a voice for those in need.'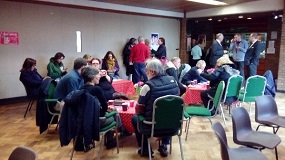 This month we hear from one of our Church Related Community Work students about the impact her placement at Weoley Castle Community Church has made: 'Working alongside Mark Tubby (CRCW in post) has been an insightful pleasure and together we have worked to bring social justice to a highly deprived area'.
You can read the full article from Vicky here: A Students' reflection
If you would like to find out more about CRCW ministry or how you can get involved in Church Related Community Work in your local area, please email me for more information.
If you would like to find out about becoming a CRCW, please read the following information, contact me at: crcw.admin@urc.org.uk or telephone the main switchboard number 020 7916 2020.