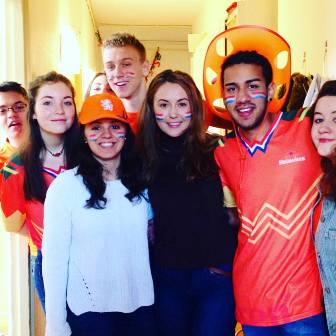 Georgia Whelan, of the URC's North Western Synod, recently returned from a wonderful experience with the Mission House programme in The Netherlands.
The Mission House provides an excellent opportunity for eight young people between the ages of 18 and 25, inclusive, to gather together from across Europe to form a community in the heart of Amsterdam. Lasting for ten months, this programme sees participants working in a whole range of church-related voluntary projects, focussing on the needs of the most vulnerable and neglected in society. From homeless shelters to immigration drop-ins, detention centres to children's clubs this experience is, without doubt, challenging and eye-opening, even life-changing, but it is always, most assuredly, every time, 100% worth it!!!
The experience was a life changing one for Georgia, as it has been for every young person from the United Reformed Church who has taken advantage of this fantastic opportunity. You can read Georgia's thoughts on her Mission House adventures, along with those of her friends, in the House Blog.
North Western Synod is delighted to welcome Georgia back, because she has been missed during her time away, but thanks and praise are offered to God for the opportunities she has had, the positive difference she has made to the lives of others and the experiences she has brought back with her.
Let some Misison Housers tell you what it's all about:
Video not showing? Click here.
For more details about the Mission House programme and how you can get involved, contact us or visit the website.