Every two years, the General Assembly of the United Reformed Church brings together representatives from across the denomination to share in worship, fellowship, discussion and voting as they prayerfully discern the will of God for the URC, making decisions about its vision, policy, structure and mission. In July 2016, the Assembly met at Southport Convention Centre. Prior to the meeting, young representatives, under the age of 26, had the chance to meet for 'What Do You Think?' (WDYT), a briefing event designed to support young people in understanding the reports and resolutions being brought to Assembly for debate and decision, meet with Assembly officers and staff and build a working knowledge of how the Assembly works. Some of the WDYT participants tell us more about their experiences...
As Under 26 representatives, we were able to travel to Southport early to take part WDYT, an event held in the days leading up to General Assembly. WDYT? provides a chance for young representatives to look at the Book of Reports and ensure that we really understand the reports and resolutions, which can be quite complex. We were also given the opportunity to speak to some of those bringing resolutions to Assembly and ask them any questions we had, meaning we were well informed and ready to share our thoughts and opinions when General Assembly began. We were also visited by the new moderators, Kevin Watson and Alan Yates, and the clerk to General Assembly, whom we asked a whole range of things from the ins and outs of Consensus Decision Making, one of the systems Assembly uses to discuss issues and decide on ways forward, right through to their favourite colours! Of course, a large part of the WDYT was the social aspect of being able to get to know other U26 representatives attending Assembly and spending time together in worship, as well as discussing reports, resolutions and business.


After two days of preparation, General Assembly began and the conference centre soon filled as we were joined by many others. Worship at General Assembly was a definite highlight, with over 300 people joining together as one body. There were many resolutions passed during General Assembly, but a few that stood out included the Wider Fold proposals put forward by the Faith and Order Committee, the International Nuclear Weapons Ban Treaty and the final decision on the marriage of same-sex couples. The creation of a Wider Fold allows those who have moved away from, or are unable to be a member of, a local URC, to retain their commitment and membership to the United Reformed Church. This includes retired ministers and members of the armed forces, but also students who move away from their local church, and was a resolution that resonated with a lot of the U26 representatives.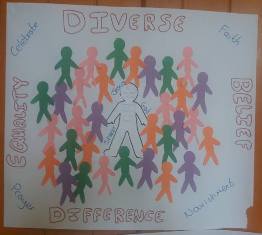 However, throughout General Assembly it was vital to remember that despite being young people, we were not there solely to look at resolutions aimed at us, the youth. We were able to vote on all the decisions made and took every available opportunity to make our voices heard. We were not just there because we are young; we were there representing the one third of the United Reformed Church who are young people.
As well as actively being involved in the discussions, we also produced the daily 'General Assembly Gossip' paper (GAG for short), which gave us a platform to sum up the day's events and also provide some light relief for all attending the Assembly.
The comments of the youth were well received and people commented on how well we spoke during Assembly, truly a testament to all our hard work at WDYT. General Assembly was a fantastic opportunity to meet new people and really shape the future of the URC. We left Southport tired, but inspired and motivated to really challenge what it means to be 'People of the Way'.